Quality car air
conditioning services
in Ashford, Kent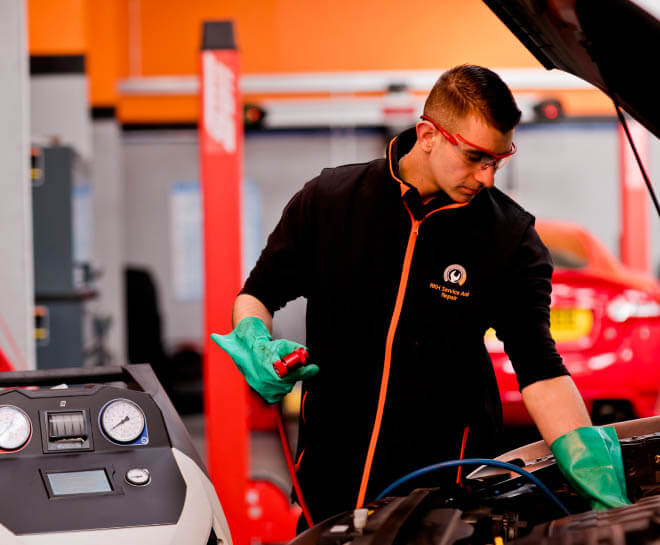 We are a team of experienced mechanics with the skills, knowledge, and expertise your car air conditioning requires in Ashford, Kent. We provide maintenance services of all types and sizes, including air conditioning recharges, leak detection, and cleaning – all carried out by F-gas trained professionals. We make sure that customers in Kent can access the high-quality support their car's air conditioning requires, delivering services that surpass the customer experience and value for money offered by main dealers. Call 01233 877797 or email admin@rkhserviceandrepair.co.uk for expert car air conditioning services in Ashford, Kent.
What are the advantages of
car air conditioning maintenance?
Air conditioning tends to be underrated and overlooked by car owners.
Your system will benefit from being used all year round, even if just for a few minutes each week, as this will help to prevent the loss of gas and keep it operating effectively. Investing in professional car air conditioning maintenance will also allow you to:
Increase the efficiency of your air conditioning
Recharging your air conditioning will help it to operate more efficiently and effectively. This provides a better experience for you and your passengers and requires less work from your system.
Address any odours
Unfortunately, unpleasant smells can build up inside car air conditioning systems over time. Professional maintenance can clean and refresh the gas within your system to resolve the problem.
Save money on repair and recharge costs
Maintenance can control air conditioning repair costs by minimising the risk of broken systems. Moreover, tracing leaks using specialist dyes or nitrogen gas can avoid wasting money on unnecessary recharge costs.
Reduce fuel consumption
A well maintained, efficient air conditioning system is less demanding. As a result, the amount of fuel required to run your system will decrease, saving you money in the process.
Receive a
fast quote
Call 01233 877797 or email admin@rkhserviceandrepair.co.uk to receive a fast quote for car air conditioning services in Ashford, Kent. A member of our team will respond as soon as possible within working hours, making sure your vehicle receives the attention it deserves.
What makes RKH Service And Repair
the right choice for
car air conditioning services in Ashford, Kent?
Excellent customer experience
Our friendly and approachable team will ensure you feel welcome when you visit our garage. We have a designated customer waiting area with refreshment and toilet facilities and are always happy to answer any questions about your vehicle or our services.
Competitive pricing
Our car air conditioning services provide excellent value for money. From recharging and cleaning, through to leak tracing and controlled removal, our competitively priced services don't compromise on quality. We also train our team not to upsell or recommend additional work unless it's absolutely necessary.
Clear communication
You'll receive a clear explanation of the work we're carrying out and the reasons behind our approach. Our team know that technical discussions and jargon can seem confusing; that's why they'll spend time breaking things down and making sure you fully understand the condition of your car's air conditioning.
Thorough approach
Your car's air conditioning will be handled by an experienced professional – we have more than 75 years' combined experience within our team. Our attention to detail and thorough approach ensure all our work is completed to the highest standard, delivering lasting results.
Knowledgeable team
Our team members have F-gas training so that they can deal with air conditioning issues professionally and responsibly. We understand how to diagnose and fix problems efficiently, drawing on our skills and knowledge to prevent unnecessary delays. Our specialist air conditioning services are the best in Ashford.
Great availability
We've invested in our facilities, equipment, and staff, to ensure that we can provide great availability for our customers. These resources give us the capacity to offer convenient bookings, making it simple and straightforward to have your car's air conditioning recharged or repaired.
Where can I find car air conditioning recharge and repair services near me in Ashford?
RKH Service And Repair is based within the KPC Business Centre, Canterbury Road, Ashford, Kent, TN24 0BP. As well as car air conditioning expertise, we have extensive hands-on experience with cars, motorbikes, electric vehicles, and goods vehicles up to five tonnes, and can provide a wide range of professional maintenance services throughout Ashford, Kent, and the surrounding local areas.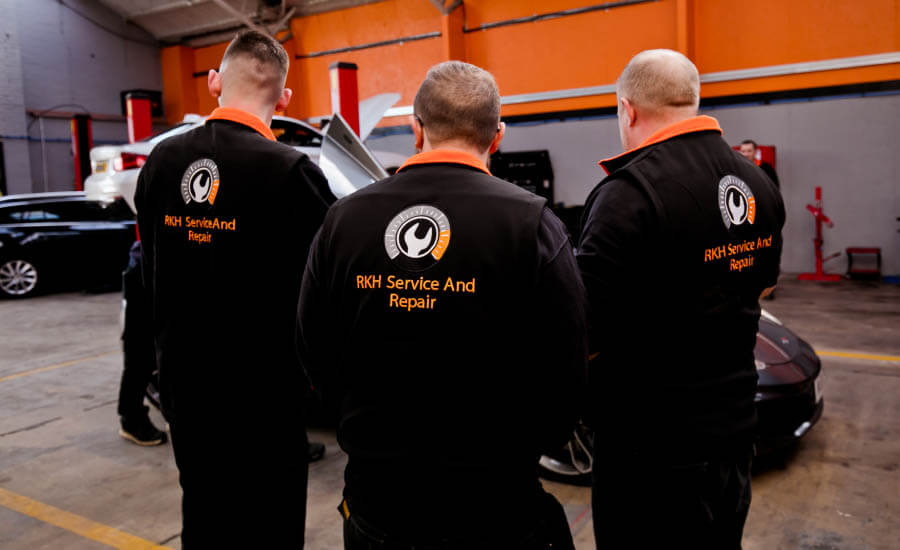 Fleet management
We're equipped to work on vehicles up to five tonnes, making us an excellent choice for companies in Ashford with a fleet of large goods vehicles that require professional maintenance and support. Our team can service and repair your fleet, as well as taking care of more specific requirements such as wheel alignment, air conditioning, diagnostics, and replacement tyres. If this service is of interest to you and your business, please call 01233 877797 or email admin@rkhserviceandrepair.co.uk for further details.
Wide-ranging vehicle
maintenance expertise
Our team of expert mechanics don't just offer high-quality car air conditioning services. We provide a number of vehicle maintenance services for customers based in Ashford and are even able to work on electric vehicles.
Contact
RKH Service And Repair
Call 01233 877797 or email admin@rkhserviceandrepair.co.uk to discuss our expert vehicle maintenance services and receive a fast quote. We'll provide the professional support that your car or motorbike needs.