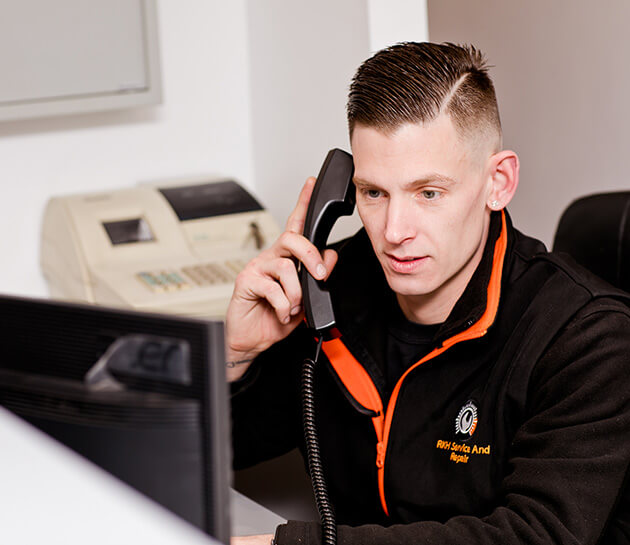 RKH Service And Repair was established in 2016, allowing our founder, Reid Hawkes, to spend more time with his daughter and turn his lifelong passion for vehicles into a successful business. Reid built his first motorbike engine in 2006 at the age of 15, followed by a car engine at 17, kickstarting his enthusiasm for all things mechanical. Whilst working as a CCTV engineer, he continued to work on vehicles of all types and sizes in his free time, using a friend's storage unit as a workshop. Over time, Reid's interest in vehicles continued to develop and, when the opportunity arose to switch careers, he seized it – that original storage unit is now our reception and customer waiting area.
What sets RKH Service
And Repair apart?
Excellent customer experience
We make sure that all our customers feel welcome whilst we're looking after their vehicles. Our team members are always happy to answer questions and we've invested in a customer waiting area with refreshment and toilet facilities so that you'll be comfortable.
Competitive pricing
We price our services competitively so that all our customers receive excellent value for their money. This allows the widest possible audience to benefit from our team's mechanical expertise and demonstrates that quality services don't have to be costly.
Clear communication
We know that not everyone feels comfortable when discussing mechanical matters. Our team will take the time to explain things clearly, helping you to understand the reasons behind the work we've carried out. We make sure all our customers feel reassured when they leave our garage.
Thorough approach
We work to the highest standard at all times, making sure that every car and motorbike receives a thorough assessment so our team can identify the root cause of any issues. We've invested considerably in our facilities and equipment, ensuring that we're always well prepared, no matter the issue.
Knowledgeable team
We have more than 75 years' combined experience within our team, allowing us to resolve mechanical issues efficiently and ensure that we're always doing the right thing for our customers. When you need our help, we'll go above and beyond to make sure you receive it.
Great availability
We understand how disruptive car and motorbike issues can be. The scale of our operation means that we can provide great availability, helping to minimise any inconvenience by accommodating bookings at the earliest possible opportunity.
Contact
RKH Service And Repair
Call 01233 877797 or email admin@rkhserviceandrepair.co.uk to discuss our expert vehicle maintenance services and receive a fast quote. We'll provide the professional support that your car or motorbike needs.