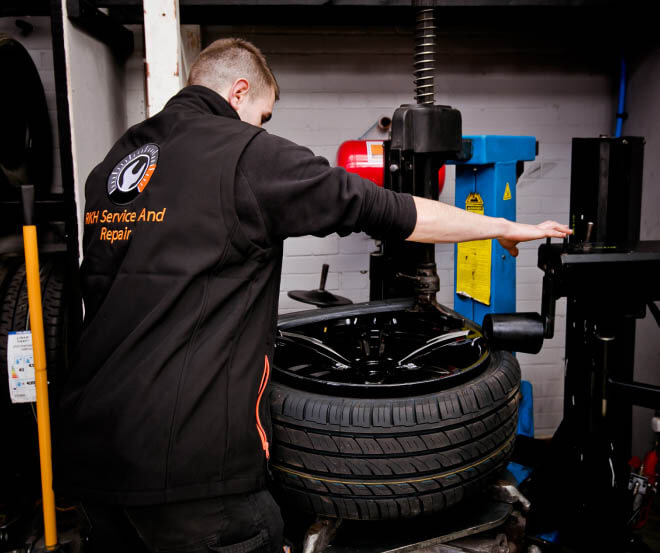 Tyre repair and replacement in Ashford
We are professional mechanics who provide high-quality replacement tyres for customers in Ashford. Our team has the skills, knowledge, and expertise to identify and fit the perfect tyres for your vehicle. We provide a simple and straightforward service, explaining everything in clear terms and making sure your tyres have been tailored to your vehicle, budget and requirements. With new valves and electronic wheel balancing included in the price, as well as the ability to arrange same-day delivery to our garage, we provide a service that beats main dealers on quality, customer experience and value for money. Call 01233 877797 or email admin@rkhserviceandrepair.co.uk to talk to a member of our team about tyre fitting and repairs in Ashford, Kent.
What are the advantages of
replacement tyres in Ashford?
Replacing the tyres on a car or goods vehicle can make a noticeable difference, providing a number of benefits and allowing you to:
Improve safety
Quality, well maintained tyres are critical for road safety. In an emergency, your tyres will help to determine the effectiveness of your braking and could avoid accidents. New tyres are always better in these situations.
Increase tyre traction
Better grip results in a more responsive vehicle that is easier to control. Not only does this provide clear safety and comfort benefits, it can help your car perform under different weather conditions.
Enhance your driving experience
Fitting new tyres to a vehicle can significantly enhance the driving experience, providing a smooth and comfortable ride. They can also help to minimise unwanted road noise.
Reduce fuel consumption
Tyres that are excessively worn due to misaligned wheels can drag on the road surface and create unwanted resistance. Addressing this issue will improve fuel economy and performance.
How to understand the
markings on your tyres in Ashford
Your tyre details can be obtained by reading the markings on the sidewall of your tyres. These will form a number such as 205/55/R16/91V where each element provides information for your mechanic. It's also important to identify whether or not you'll require run-flat tyres. This is usually abbreviated as RFT or ROF but it will change depending on the manufacturer of your tyres.
Unless run-flat tyres are specified, normal tyres will be quoted. If you're unsure whether this applies to your replacement tyres, please call 01233 877797 or email admin@rkhserviceandrepair.co.uk and a member of our team will be happy to assist you.
Get a price
for your
replacement tyres in Ashford
Enter your tyre details to receive a price for your replacement tyres. A member of our team will respond as soon as possible within working hours.
What makes RKH Service And
Repair the right choice for
tyres in Ashford, Kent?
Excellent customer experience
Our friendly and approachable team will ensure you feel welcome when you visit us for replacement tyres. We have a comfortable waiting area with refreshment and toilet facilities and we're always happy to answer questions from customers.
Competitive pricing
Our tyre services provide excellent value for money. All our replacement tyre fittings include new valves and electronic wheel balancing as standard. We also supply tyres from an extensive range of manufacturers to accommodate different budgets and requirements.
Clear communication
We avoid jargon and will always talk to you in layman's terms so that you fully understand our approach. By speaking clearly, explaining issues, and providing clear documentation, we make sure that our customers have complete confidence in the quality of our services.
Thorough approach
Our attention to detail and thorough approach provides the best possible results, every single time. Our team carries out all their work to the highest standard, making sure that your vehicle is fitted with the perfect tyres.
Knowledgeable team
Our team has more than 75 years' combined experience. Every single tyre fitting and repair is completed by an experienced professional who understands exactly what they're doing. As a result, we work efficiently and effectively, ensuring you won't be kept waiting.
Great availability
We've invested in high-quality facilities, equipment, and staff so that we have the capacity to offer convenient bookings for our customers. If we don't already have your required tyres in stock, we'll usually be able to arrange same-day delivery to our garage in Ashford.
Where can I find quality tyres for my car in Ashford, Kent?
You'll find our garage in South Willesborough, Ashford at the following address: KPC Business Centre, Canterbury Road, Ashford, Kent, TN24 0BP. As well as our excellent value, high-quality tyre fitting and repair services, we provide a wide range of specialist maintenance services. Give your car, motorbike, electric vehicle, or goods vehicle the professional support it deserves in Ashford and the surrounding areas.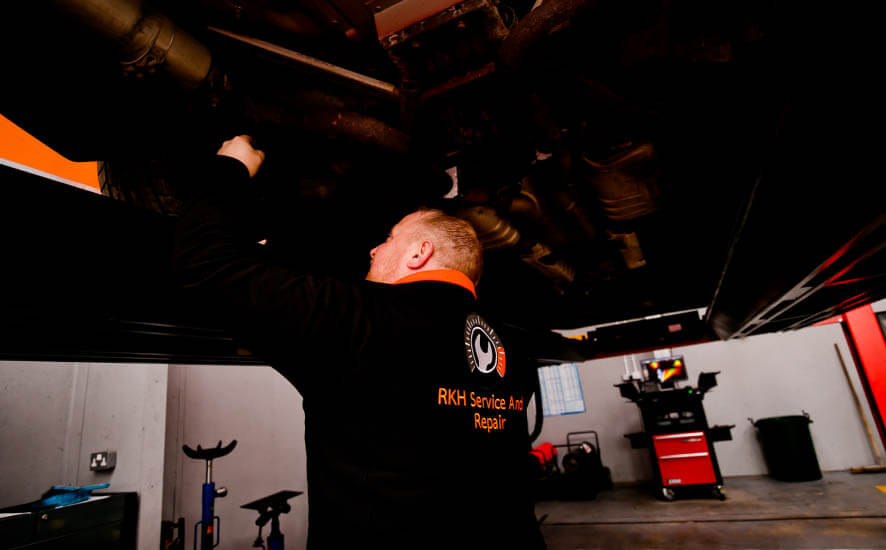 Fleet management
We're equipped to work on vehicles up to five tonnes, making us an excellent choice for companies in Ashford with a fleet of large goods vehicles that require professional maintenance and support. Our team can service and repair your fleet, as well as taking care of more specific requirements such as wheel alignment, air conditioning, diagnostics, and replacement tyres. If this service is of interest to you and your business, please call 01233 877797 or email admin@rkhserviceandrepair.co.uk for further details.
Wide-ranging vehicle
maintenance expertise
We're more than just expert tyre dealers in Ashford, Kent. Our vehicle maintenance services cover everything from servicing and MOTs through to specialist wheel alignment and diagnostics. Take advantage of our skills and knowledge.
Contact
RKH Service And Repair
Call 01233 877797 or email admin@rkhserviceandrepair.co.uk to discuss our expert vehicle maintenance services and receive a fast quote. We'll provide the professional support that your car or motorbike needs.