Excellent value
motorbike MOTs
in Ashford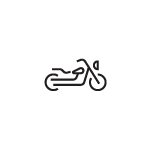 Book your motorbike MOT online or by calling 01233 877797 for just £29.65 at a quality motorbike MOT centre in Ashford, Kent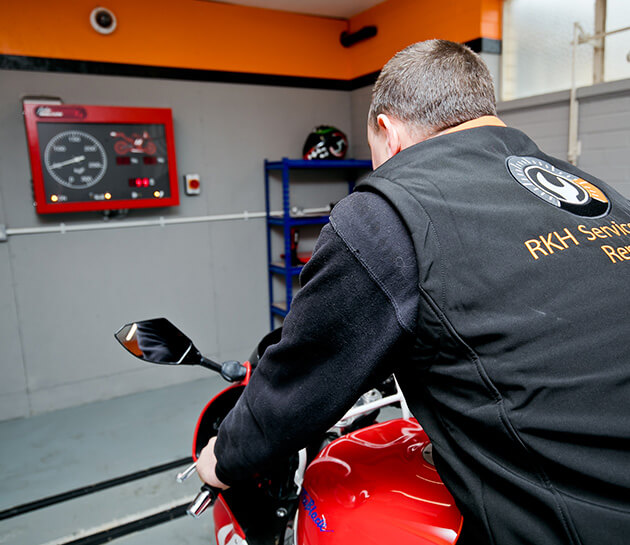 We charge £29.65 for our motorbike MOTs, letting you keep control of costs whilst taking full advantage of our team's mechanical expertise. By investing in our facilities, equipment, and qualified staff, we've made sure that we're the best possible choice for customers looking for a motorbike MOT test centre in Ashford. As well as a high-quality service and affordable price, we offer excellent availability so that it's easy for our customers to find a booking that suits them.
You can book online or by calling 01233 877797 for an excellent inspection at a highly regarded motorbike MOT centre near you in Ashford.
Why is a motorbike MOT inspection important?
You're legally required to have an annual MOT inspection if your motorbike is more than three years old in order to make sure that it is safe and in roadworthy condition. As part of your inspection, important components such as your brakes, tyres, and lights will be assessed by a qualified mechanic to check that they meet the required standards. Your motorbike's engine, clutch, and gearbox aren't checked as part of its MOT, making it important to service your vehicle on a regular basis as well.
How much is an MOT for a motorbike?
At RKH Service And Repair, the cost of our motorbike MOTs is £29.65. This affordable price point ensures that everyone is able to access our expertise and make sure that their motorbike is safe to ride. The quality of our facilities and thorough approach of our mechanics also give our customers complete peace of mind that their bike has received the best service in Ashford.
What makes RKH Service And
Repair the right choice for your
motorbike MOT in Ashford?
Excellent customer experience
You're welcome to stay within our designated customer waiting area and watch your motorbike MOT inspection take place. We're known for our friendly, approachable team and personal customer service; all our staff will be happy to answer any questions.
Affordable pricing
You'll receive excellent value for your money – our motorbike MOTs only cost £29.65. We control our prices because we believe in doing the right thing for our customers. That's why our team are trained not to upsell or push you towards services that your bike doesn't require.
Clear communication
You'll find the MOT process simple and straightforward. Our team understand how to explain the outcome of your inspection clearly and in a manner that's easy to understand. You can rely on us to avoid jargon and provide the simple documentation you need.
Thorough approach
Your motorbike MOT will be completed to the highest standard – we don't compromise on the quality of our work or the safety of our customers. Our experienced mechanics will pay close attention to every detail and complete a thorough check of each assessable component on your motorbike.
Knowledgeable team
We have multiple trained motorbike MOT testers within our team, ensuring that we'll always be able to assign a knowledgeable mechanic to your booking. Drawing on our extensive experience, we know exactly what we're looking for and will carry out all our checks efficiently and effectively.
Great availability
You'll be able to find a convenient MOT booking that suits your requirements. Having invested in our test centre facilities and equipment, we have the resources we need to conduct an inspection every half hour. If your motorbike needs its MOT, we won't keep you waiting.
Frequently Asked MOT questions in Ashford
How often do Motorbikes need an MOT?
Once your motorbike is over three years old, you will need to book in an MOT every 12 months to ensure it is safe and roadworthy.
What does a motorbike MOT consist of?
An MOT will check the key parts of your motorbike, including lights, steering and suspension, wheels and tyres, frame, braking, exhaust system, fuel system, seats, wheel alignment, sidecars (if applicable), horn, registration plates, drive chain and sprocket, throttle, clutch lever and footrests. It is important to remember that the engine, clutch and gearbox are not checked as part of an MOT, so you will need a full service to have these looked at.
What will fail a motorbike MOT?
If any of the previously mentioned parts are not performing correctly, they can put you at risk whilst on the road and therefore could cause you to fail your MOT. The most common reason for bikes to fail their MOT is lighting and signalling, often due to blown bulbs.
Can you MOT a motorbike early?
The earliest that you can MOT your motorbike is one calendar month before its previous MOT expires, however this will still preserve the original expiry date the next year when it is time to book your MOT again.
Where are we based? – finding your motorbike MOT centre in Ashford
You'll find our garage within the KPC Business Centre, Canterbury Road, Ashford, Kent, TN24 0BP. This is just a short five-minute drive from Ashford town centre or from Junction 10 on the M20. With the sad closure of Tagg Racing on Old Surrenden Manor Road in 2020, we've been welcoming lots of riders in Ashford for motorbike MOTs who were previous Tagg Racing customers. Our test centre in South Willesborough is the best possible choice for motorbike MOTs in Ashford.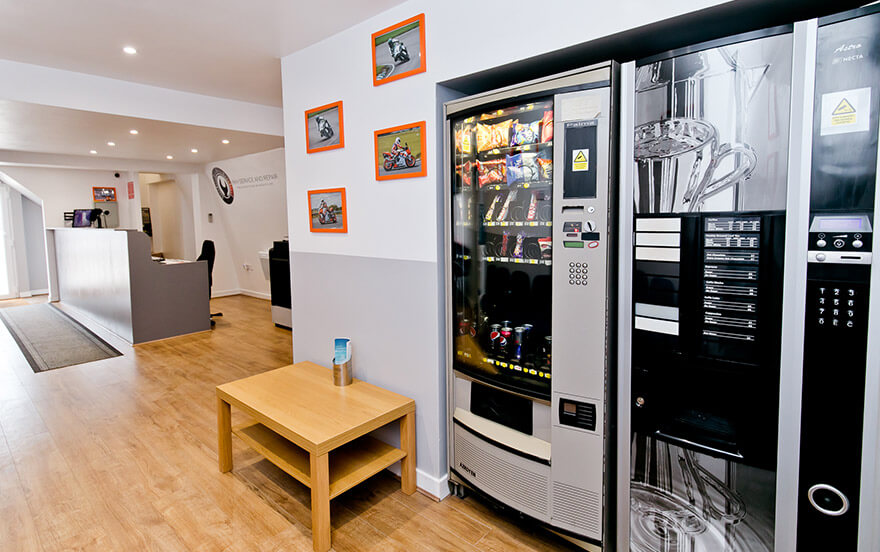 What can I do during my motorbike MOT in Ashford?
 If you're wondering 'what is near me during my motorbike service and MOT?', you may be interested to know that there are several excellent shopping facilities within a one-mile radius. Our customers can visit Ashford Designer Outlet or Ashford Retail Park if they'd like to keep themselves occupied whilst we're inspecting their motorbikes. Alternatively, you can choose to remain within our designated waiting area and watch your MOT take place using our viewing screen.
Wide-ranging vehicle
maintenance expertise
We're more than just the best choice for motorbike MOTs in Ashford. Our team of highly trained mechanics offer a wide range of specialist vehicle maintenance services that will look after your motorbike or car, no matter your requirements.
Contact
RKH Service And Repair
Call 01233 877797 or email admin@rkhserviceandrepair.co.uk to discuss our expert vehicle maintenance services and receive a fast quote. We'll provide the professional support that your car or motorbike needs.